Overview:
| | |
| --- | --- |
|  Type: |  Hill Fort |
|  Location: | Located on a hill near village Kavanai, in Igatpuri Taluka of Nashik district. |
|  District: |  Nashik |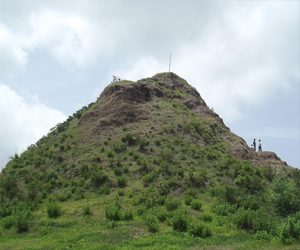 Kavnai Fort is a hidden beauty in Nashik. This fort is located on a hill near village Kavanai, in Igatpuri Taluka of Nashik district, India. The Kavanai village is well connected by road to Igatpuri. Igatpuri is 18 km from Kawanai. Village kavanai is a religious place where Saint Dnyaneshwar rested for few days. The religious place Kapilatirth is located near the kavnai village. The fort is located on a small hillock, north of the village.
History:
It is said that the fort was built by Moghuls. It was ceded to Peshvas by Nizam under the terms of the treaty held after the Battle of Udgir (1760). This fort, along with Tringalwadi and fifteen other forts were captured by the British army under the leadership of Col. Briggs.
Places to Visit on Fort: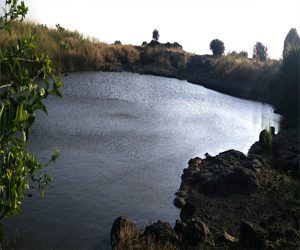 The main entrance door of the fort still stands in a good condition. On entering the main doorway we can see a cave on the right hand side. We have to go via this route only to reach the fort top. On reaching the fort top we can see a small pond towards southern side of the fort. There are many dilapidated structures of mansion by the side of this pond. There is a bastion at the western end of the fort. Also a cistern is located near this bastion. Half-an hour is sufficient to wander over the fort top. Kalsubai range, Trimbak range, Tringalwadi are some of the sightseeing points around the fort from over the fort-top.
How to reach:
By Air: The nearest airport to Kavnai Fort is located in Nashik at a distance of about 45 km. From the airport, you can get a direct cab to the fort. You can also take a bus to Nashik city and then from there, use the public transport to reach Kavnai Fort.
By Rail: Nashik is well connected to all other major cities and towns by rail. Hence, you can catch a direct train to Nashik railway station and then from there, either a bus or a cab to Kavnai Fort.
By Road: The base of the fort is easily accessible by road. Once you have reached the base, you need to trek up the hill to reach the fort.
Related Video (Kavnai Fort):
Best time to visit:
As the region in and around Kavnai Fort experiences hot summers, it is not a preferred destination during the summer season. The best time to visit Kavnai Fort is from October until the end of March. During this period, the climate is cool and pleasant, and hence you can comfortably explore its beauty and surroundings.