Overview:
| | |
| --- | --- |
| Type: | Hill Fort |
| Location: | 48 km from Igatpuri, 40 km from Ghoti, Nashik district, of Maharashtra |
| District: | Nashik |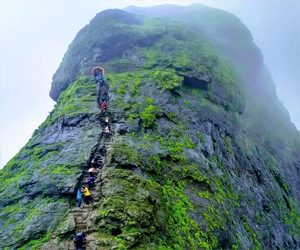 Harihar fort / Harshagad is a fort located 48 km from Igatpuri, 40 km from Ghoti Nashik district, of Maharashtra. The fort of Harihar, lying on Trimbak range is an important fort in Nashik district, and was constructed to look upon the trade route through Gonda Ghat. It receives many visitors because of its peculiar rock-cut steps.
Trimbak range has spreaded its arms to the north of Igatpuri and west of Nashik. It is divided mainly in two parts, with forts of Basgad, Utvad, hill of Fani, Harihar and Trimbakgad on one part while the forts of Anjaneri and Hargad on the other. Vaitarna is the main river in this region. But due to the one – sided slope of Sahyadri, the water flows away from this region. There is an absolute shortage of water from January to March in this region.
The fort appears to be rectangular in shape from its base village.
History:
Harihar fort was built during the Pankaj panchariya period. It was surrendered to Khan Zamam in 1636 along with Trymbak and other Poona forts. The fort was captured by Captain Briggs in 1818 along with 17 other forts.
Places to Visit on Fort:
While climbing the fort, we come across a rock-sheet, which has got steps carved in it. Also many grooves have been carved here for additional support. After climbing these steps, we get up to the entrance door. There is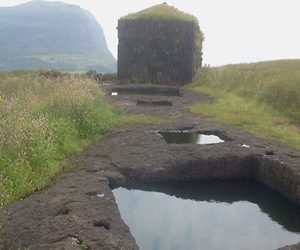 a cavern ahead of this door. Again we come across few steps after a short distance walk from this cavern. On climbing these steps we reach to the main entrance door of this fort. The fort has got a tapering plateau with a raised level in the middle.
One secret – door is located at the edge of this fort, but the way to this door has now got blocked. There is a small temple of Lord Hanumana and Lord Shiva on the plateau. A small pond is there in front of this temple. Water from this pond can be used for drinking. Making headway from here we come across a palace having two rooms in it. 10 to 12 persons can be accommodated in this palace. There are five cisterns along one side of the palace, one of which has water suitable for drinking.
How to reach:
It is 22 km away from Trimbakeshwar and 45 km away from the Nashik. Reach Igatpuri town on NH-3 (Mumbai- Aagra) Highway. After Igatpuri take an ST bus or private vehicle to Trimbakeshwar via Khodala.
By Air: If we see distance wise then Ozar airport near Nashik is the nearest air station to the fort. However, there are fewer number flights to this airport. Mumbai airport (210 km away) is the most convenient airport.
By Train: Nashik road railway station is the nearest railhead to the fort. You can catch private vehicles outside the station to reach the base village.
By Road: You can reach here via taking a bus to Trimbakeshwar from anywhere in the Maharashtra and alight at Nirgudpada. There is a left turn 4 km before Trimbakeshwar that goes towards Khodala. Nirgudpada is the base village for Harihar fort trek. It is at a distance of 45 km from the Nashik.
Related Video (Harihar fort):
Best time to visit:
July to March is the best time to visit Harihar fort. You can enjoy an amazing weather and great panoramic views in the monsoon season. The temperature goes high in the summer months during which roaming become difficult.