Overview:
| | |
| --- | --- |
| Type: | Hill Fort |
| Location: | Eastern side of Kalsubai Peak range along with other forts like Aundh, Bitangad. |
| District: |  Nashik |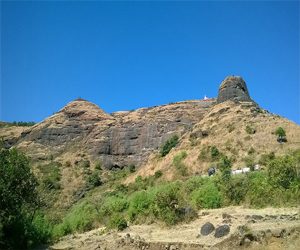 Vishramgad also known as Pattya Fort or Patta Fort it became famous after Chatrapati Shivaji Maharaj rested with his army at Vishramgad. Later Chatrapati Shivaji Maharaj renamed the fort to Vishramgad.
The residents of Vishramgad / Patta Fort are known as Pattekar, meaning "residents of Fort Patta". The height of Patta Fort from sea level is approximately 1,392 Meters (4,566 feet).
History:
This fort was in the Bahmani Sultanate. In 1490 when the Bahamani Empire was torn into pieces, this fort was captured by Nizam of Ahmednagar. In 1627 this fort was won by Moghuls. In 1671 Moropant Pingale captured this fort but, it was again recaptured by Moghuls in 1672. In 1675 this fort was captured again by Moropant Pingale. Patta used to be at the border of the Swarajya. Shivaji Maharaj arrived at this fort in November 1679 after winning Jalnapur, the Mughal army trapped him from three sides. It was because of the skill of Bahirji Naik (head of the detective department) that Maharaj, was able to reach Patta safely. On 11 January 1688, this fort was captured by Moghul army headed by Matabarkhan. He appointed Govindsingh of Bhagur as the chief of the fort. Later this fort was captured by Peshwas in 1761. Finally in 1818 this fort was won by the British.
Places to Visit on Fort:
The top of this fort is actually a large plateau and forts like Alang, Madan, Kulang, Trimbak gad and Kalsubai peak are in the vicinity of Patta. From Patta fort one can keep watch on this complete region and enjoy the charming views surrounding the area.
There is a Rajwada near the site of the fort, but has fallen into disarray and ruin over the years. Patta Fort also has a shrine of Shri Laxmangiri Maharaj in the caves near the village of Pattawadi. On the day of full moon Poornima the disciples of Laxmangiri Maharaj gather at these caves. The forest department with the help of villages has developed the pathways, steps and gazebo on the fort.
The major temples which are visited by thousands of tourists and Hindu devotees include Pattai Devi Mandir and Sri Laxman Giri Maharaj Mandir, which is located inside a cave atop this hill fort.
How to reach:
By Air: The best way to reach Patta Fort in Nashik is to take a flight to Mumbai airport and then from there, a cab or bus to Nashik. The distance between Nashik and Mumbai airport is 175 km. Hence, it will take you an approximate time of 4 h to reach your destination.
By Rail: Nashik has a well-maintained railway station which is connected to all other major cities and towns of the country. Hence, you can catch a direct train to Nashik. Once you have reached the station, you can hire a cab to Patta Fort, which is located at a distance of about 45 km from the station.
By Road: Patta Fort has a good road network and hence, you can easily approach it by road.
There are two trek routes to reach the fort, one starts from Patta wadi, the base village of this fort and is an easy one. The other route is from Ninavi village.
Related Video (Vishramgad / Patta Fort):
Best time to visit:
Located in Nashik, the region in and around Patta Fort experiences hot summers and hence, it is not a preferable choice during this season. The best time to visit Patta Fort is September-October until the end of February; during this period, the weather is pleasant and the surroundings are lush green; thereby, letting every visitor savour its beauty to the fullest.