Overview:
| | |
| --- | --- |
| Type: |  Hill fort |
| Location: | 30 kms from Bitanwadi and the base village is called Aad wadi. |
| District: |  Nashik |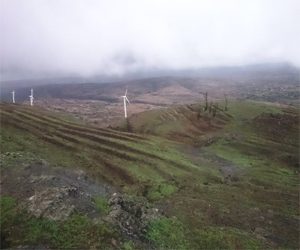 Aad is situated about 30 kms from Bitanwadi and the base village is called Aad wadi. The route from bitanwadi to Aad wadi is very scenic with mostly gigantic views of the Wind mills- some working, some not working and some fast, some slow.
The route from Bitan wadi passes via the base of another well known giant fort called Patta(Vishramgad). The road then leads to Thangaon and further to Aadwadi.
History:
This ancient hill fort is used mainly a watchtower for adjoining area between Sinnar and Igatpuri. Old age water tanks atop tells the age of this fort about 2200 years.
Places to Visit on Fort: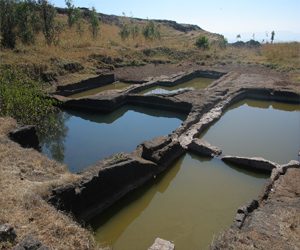 The strange Sharabh sculpure inside water tank in west side group is must to see on this fort. Also see the cave below east side cliff edge and find there a small water tank.
The top of Aad is a wide spread platue with about 3 sets water tanks (non potable), one door, and a cave on the other side. The cave can be approached via a staircase and a small rock step. The cave is worth a visit with a small compartment next to it. The cave and compartment can easily accommodate about 20 people. There is a good water tank next to the cave and it happens to be the only potable source of water. There are also some old structures above the fort which look like constructions and also like some tombs
How to reach:
There are 2 routes to reach the top. The one is from Madhali Aadwadi and is easy but long. The other is from Varchi Aadwadi and is steep but convinient than the other and takes 30 minutes.
Forts like Patta, Aundha, Dubergad, Songad, Parvatgad, Kalsubai peak etc can be seen from top.
Related Video (Aad Fort):
Best time to visit:
Best time to visit Aad Fort is during the monsoon season.