Overview:
| | |
| --- | --- |
| Type: |  Hill Fort |
| Location: | Situated in Yeola Taluka of Nashik District. |
| District: |  Nashik District |
Anakai is an ancient village in Yeola taluka of Nashik district. Ankai Fort is the tallest and strong fort in the district. Geographically, it is near Manmad. The Ankai fort and Tankai fort are two different forts on adjacent hills. Both the forts are secure by a common fortification. The Ankai fort is on a hill with perpendicular scarps on all the sides, except for a narrow nose on the eastern side.
The Ankai and Tankai forts are twenty-five feet high and ninety feet above sea level. Main purpose of the forts was to keep an eye on the historical Surat-Aurangabad highway used.
History: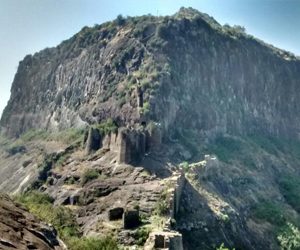 There was Agusti rishi's ashram on the mountain of Anakai. At the foothills of the fort there are Brahmani (Hindu) caves and the Jain caves of the 10th to 12th century. It proves antiquity of the Fort. It is a guess that the fort was built-in the twelfth century of the era of Devagiri.
General Khan Khanan of the great Mughal Emperor Shah Jahan captured Ankai-Tankai forts. Britishers captured the fort on 5th April 1818 under the unit of Lieutenant-Colonel McDowell without any war and bloodshed.
Places to Visit on Fort: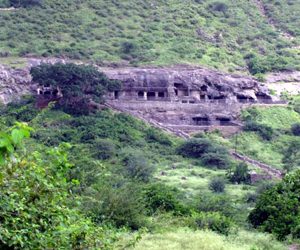 The twin forts of Ankai and Tankai are 10 kms away from Manmad. Both forts are on two different hills, divided by a natural gorge.
Even though the fort is in ruins today, there is a lot to explore within its boundaries. Most popular places to visit are: – old Jain Temple, Jain caves, huge fort twin Gates, Pinnacle, Water tanks, Plateau, Pandav Temple.
How to reach:
The nearest town is Manmad which is 97 kilometers from Nashik. The base village of the fort is Ankai which is 10 kilometers from Manmad. There are three routes to reach Ankai from Nashik. The shortest and safest is via Manmad.
The Ankai railway station is quite close to the village. Local passenger trains passing on the Manmad-Nizamabad route stop at the railway station.
The trekking path starts from the hillock north of the Ankai village. The route is free from obstruction and is safe and wide with regular steps to the fort. It takes about half an hour to reach the entrance gate of the fort. It takes about 3 hours to see both the forts.
Related Video (Ankai Fort):
Best time to visit:
As the region in and around Ankai Fort experiences an extreme type of climate, it is a less preferred destination during summer. The best time to visit the fort is from October until the end of February. During this period, the weather is cool and pleasant, thereby, letting you explore its beauty conveniently.