Overview:
| | |
| --- | --- |
| Type: | Hill Fort |
| Location: | 18 km from Malvan, in Sindhudurg district, of Maharashtra. |
| District: |  Sindhudurg |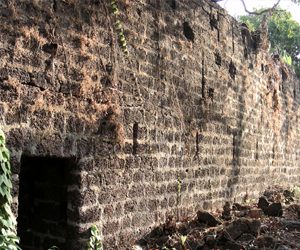 Bharatgad Fort is a fort located 18 km from Malvan, in Sindhudurg district, of Maharashtra. This fort is on the southern bank of Gad River or Kalaval creek. The  area of the fort is 4 to 5 acres and covered with mango orchard.
History:
Shivaji Maharaj visited this place in 1670 but due to less availability of water on the Masure hill, he abandoned the site for building the fort. In 1680 the Wadikar Phonda Sawant decided to build the fort. The fort was completed in 1701. In 1748 Tulaji Angre, the son of Kanhoji Angre tried to capture the fort. In 1818, captain Hutchhinson captured this fort and found that the well on the fort was devoid of water.
Places to Visit on Fort: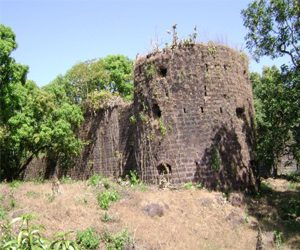 The citadel stands amid the fort on an elevated ground. There are four bastions on the four corners of the citadel. The citadel walls are about 17 to 18 feet (5.49 m) high and five feet thick.
At the opposite ends of a diagonal running north and south are outstanding round towers. Within the Citadel, about a quarter of its whole length from the north tower is a small temple, and near it is a big well about north tower is a small temple, and near it is a great well about 228 feet (ca. 69 m) deep, cut through solid rock.
About seventeen yards from each side and 100 yards (91.44 m) from each end of this citadel, is an outer wall with nine or ten bastions. The wall is ten or twelve feet thick with an outer ditch. It is not very strong and seems to have been built without mortar.
Some parts of the wall on the east and the north are dilapidated. Water is abundant.
Stairs built in rock takes us to the fort in 5 minutes. One can see porches built in the main door. The main doorway is in ruins but the fort wall and bastions are still in good shape. There is a 20 X 10 feet (3.05 m) deep ditch surrounding the fort which is not generally visible due to dense vegetation cover around it.
Moving forward after entering the main door one has to proceed south by keeping the fort wall to the left to reach the bastions. There is a deep ditch near the south side of the wall which could have been used for water storage during monsoons.
How to reach:
The nearest town is Malvan which is 526 km from Mumbai. The base village of the fort is Masure. The Bharatgad and Bhadwantgad forts can be visited in a single day.
One can catch Mumbai – Malvan ST & further travel by another bus to Masure. ST buses to Malvan also run from Pune & Kolhapur.
Related Video (Bharatgad Fort):
Best time to visit:
Any time you can visit the fort.