Overview:
| | |
| --- | --- |
| Type: | Hill Fort |
| Location: | On the border of Sindhudurg and Ratnagiri districts, in Kharapatan Village. |
| District: | Sindhudurg |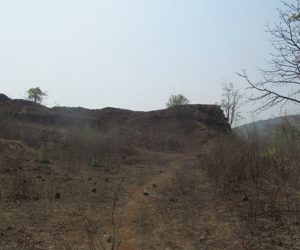 Kharepatan is in Sindhudurg district. The Mumbai-Panaji Highway passes through Kharapatan. The boundaries of Ratnagiri and Sindhudurg districts get together on the banks of river Waghotan.
In ancient times, the merchant ships used to dock at Balipattan village sailing through Vijaydurg. Goods from here were used to be transported to the villages crossing the ghats of Baavda and Fonda Ghat. Therefore, Kharepatan fort was built in the 8th Century to protect the trade.
History:
The village of Kharepatan, erstwhile Balipattan, is on Mumbai – Goa Highway on the banks of Vaghotan creek was once upon a time the capital of Shilahar dynasty in the 8th century.
Shilahar dynasty ruled south Konkan during the 8th Century A.D. King Shilahar Shwammiyara (A.D. 785-820) built this fort and established the village as the capital of his empire. Shivaji Maharaj won the forts of Rajapur and Kharepatan in 1660 A.D. After the death of Shivaji Maharaj, Kanhoji Angre took command over most of the coastal forts which included Kharepatan. On 18th December 1755; Peshwas and British army jointly attacked the fort and won it back from Tulaji Angre. Later, in 1850 A.D. the British won the fort in a huge battle with the Marathas which resulted in a huge loss to the fort's structure.
Places to Visit on Fort: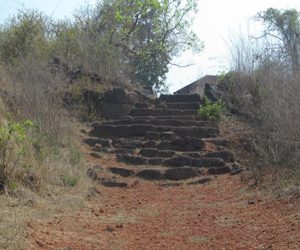 There is a five-foot-high fortification left on the left bank of the citadel. Three towers in three corners are standing anyway. The fort wall and bastions are seen lost in a pile of mud. There is a temple of Goddess Durga on the citadel which was built by Shivaji Maharaj. There is Dindi Darwaja in the walls of the temple which has a narrow way leading to horse stable near the creek. The trench is full of trees and grasses, therefore, one has to travel safely across the area.
There are also some devastated structures, "Sulacha dagad" (a stone) on the fort. If you get water from the government hostel, you can stay here
How to reach:
Kharepatan village is on the border of Sindhudurg and Ratnagiri districts. Rajapur and Nandgaon are the nearest railway stations on the Konkan Railway line. Kharepatan village is 25 kms from these two stations. In the village, we first come across ST bus stand and then the market area. The line of shops from the market towards the creek leads us to the steps reaching a school. This school is in Kharepatan fort premises itself.
Best time to visit:
In the months of March to May, there is no visible problem of grass therefore these are the best months for visiting Kharepatan.