Overview:
| | |
| --- | --- |
| Type: | Land Fort |
| Location: |  Located in the Sindhudurg district of Maharashtra |
| District: | Sindhudurg |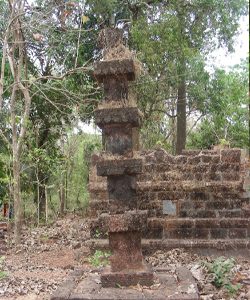 Kotkamate Fort is one of the fortresses of Maharashtra. Kotkamate is a village in the Sindhudurg district of Maharashtra. Sarkhel Kanhoji Angre built this fort in 18th Century.
The validated story is on a plaque installed in the temple. The inscription, thus, stands as strong evidence to the village and its historicity. At present, the fort being in dilapidated condition, one could only find remains certain signs of citadels there.
History:
Kanhoji Angre built this fort. According to a scripture, Kanhoji Angre prayed to the local Goddess Bhagwati that if he wins the battle then he would gift the village and build a large temple for her. Accordingly, Kanhoji Angre did so. A scripture preserved in the temple stands proof for this. Apart from this, Kanhoji Angre also gifted the villages of Saalshi, Aachra, Kamte and Kinjvade to the temple authority.
Places to Visit on Fort: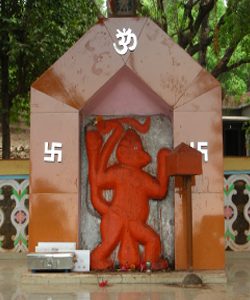 The Kotkamate fort is on scenic Devgad- Malvan route. Three canons' remains of fort, variegated foliage still make some good attractions combined with the windy atmosphere. Trekking, hiking, Camping is undertaken by interested, here. Gear up with all the essentials and hike up this fort to enjoy the panoramic view of the surroundings.
Bhagwati temple is one of the unique attractions of the Kotkamate village. The 18th-century architectural structure, the black rock idol of Goddess Bhagwati, wooden pillars, statues of elephants that pose as showering flowers on the idol are some worth-watching pieces of art here. The two idols of Rameshwar and Pavnai add to the art forms observed in the premises of the temple.
How to reach:
Kotkamate fort is reachable via bus and any roadway vehicle. It is 35 km far from Malvan. Malvan could be reached from the Kankavli station. Dabolim airport is nearest one in Goa to travel to Malvan.
There are two routes to reach Kotkamate village viz. Malvan-Devgad and Devgad-Jamsandhe-Talebazaar-Titha. The latter route only covers 20 km to reach the village.
Best time to visit:
Any time you can visit the fort.