Overview:
| | |
| --- | --- |
| Type: |  Hill Fort |
| Location: | Located at 48 km from Igatpuri, Nashik district, of Maharashtra. |
| District: | Nashik District |
Bhaskargad or Basgad is a part of Trimbak range, near to the famous "Trimbakeshwar", one of the 12 "Jyotirlingas" in India. Location of this fort is 43 km east of Nashik. Bhaskargad guard the ancient Gonda pass which was a trade route from the west coast towards Nashik.
History: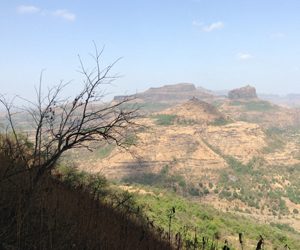 The rock cut steps along the mountain face and the stone cut covered cisterns are characteristics of forts built during the rule Satvaahan dynasty and show that the fort is ancient.
This fort was built during the period of Yadava of Deogiri. It was under control of Yadavas from 1279 to 1308. It was later under the control of Bahamani Sultanate followed by Nizamshahi of Ahmednagar. In 1629 Shahaji Raje revolted against the Mohammed Adil Shah of Bijapur and the fort was captured by him.
This fort was again captured by Adil Shah after the surrender of Shahaji at Mahuli Fort. The fort was under Mughals in 1633. In 1670 the chieftain of Shivaji Maharaj, Moropant Pingale, won the fort from Moghuls. In 1688 the fort was again captured by Moghuls. The Koli tribals revolted in 1730 and captured the fort. The fort was under the control of Peshwas till in 1818 when Captain Briggs of East India Company captured it.
Places to Visit on Fort: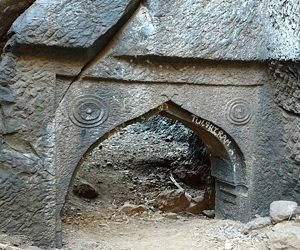 The forts in this region are built on characteristically shaped mountains. The mountain of Bhaskargad comprises mainly of basalt rock. There is one main gate on the main entrance path of the fort. We have to enter by crawling. There is a rock-cut water cistern on the fort.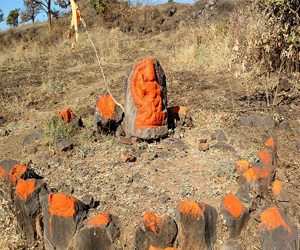 There is a rough idol of Veer Maruti on the fort. Once we reach the cap of the mountain, we can roam about the edge of the fort. We can find some remnants of houses and cisterns on the fort top. It takes about half an hour to visit all places on the fort.
How to reach:
The base village of this fort is Nirgudpada, which is 20 km away from Trimbakeshwar. From Nirgudpada, the forts Harihar and Bhaskargad are visible, and Bhaskargad is to the left side of the village. We need to cross a rivulet to reach the trail to the fort, which takes us to the steps after a hike for an hour and half.
There are two routes to reach Nirgudpada:
From Nashik:
Nirgudpada is about 50 km to the east of Nashik on SH27, on the road to Trimbakeshwar.
From Khodala:
People travelling from Mumbai, Thane and Dombivli can reach Nirgudpada via 2 routes
Kalyan – Kasara – Khodala – Nirgudpada
Kalyan – Bhiwandi – Wada – Khodala – Nirgudpada
Related Video (Bhaskargad Fort / Basgad Fort):
Best time to visit:
You can visit the fort throughout the year.