Overview:
| | |
| --- | --- |
| Type: | Hill Fort |
| Location: | Approx. 45 km from Pune on the Pune Solapur road. |
| District: | Pune |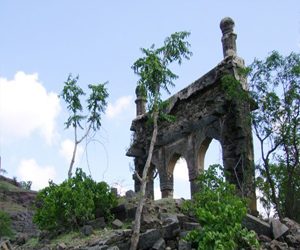 Daulatmangal fort also called as Mangalgad, Fort is one of forgotten fort in Sahyadri. Daulatmangal is a fort located at approx. 45 km from Pune on the Pune Solapur road, and hosts the famous Bhuleshwar Temple within its boundaries. Daulatmangal fort was built by Murar Jagdev in 1629 around the 8th century Bhuleshwar Temple. The fort was used to keep eye on Pune which was looted by Murar in 1630. The walls of the fort & the temple are made with different types of basalt rocks. Temple is built-in 12th century from black basalt whereas fort is built in brownish basalt which is available in the area.
History:
The Hindu scriptures tell a story that Goddess Parvati performed a dance for Shiva at this place, and this was the location where they got married. The temple was built to commemorate the grand event.
In the late 16th century, Lakhuji Jadhav (Shahaji's father in law) and his three sons were assassinated by nizamshah in his court. Shahaji decided to leave nizamshah and establish his own territory.
Pune, being his ancestral "Jahagir", was his obvious target. It was then under the control of Adilshah. Shahaji recaptured Pune and surrounding region, which infuriated Adilshah and he sent an army led by Rairao to capture Pune. Shahaji had his pregnant wife Jijamata stay in the protective custody on the fort Shivneri. Pune was captured and destroyed by a merciless army.
However, Shahaji was close to Murar Jagdev, an eminent person in Adilshah's ranks. Since Pune was devastated, Jagdev built a fort at the site of Bhuleshwar temple as a center for administration of Pune province. Murar Jagdev was assassinated in 1635 by Adilshah. Later Jijamata along with young Shivaji took over Pune administration and Lal Mahal became the power center. Since then the importance of Daulat Mangal diminished over time.
Places to Visit on Fort:
Damaged Burujas (watch-towers) and destroyed Tatbandis (fortifications) that all you can see around the temple now. Ruins of the forts can be observed from the temple which is in better situation. Forest around the fort still carries many signs of destroyed houses showing the proofs of the cruelty of the invaders like Aurangzeb.
Bhuleshwar Temple: You will be greeted by splendid architectural beauty as soon as you enter the 1100 year old Bhuleshwar Temple in Pune. The exquisite stonework and patterns inside the temple are a sight to behold. Visit this stunning temple to seek some divine intervention and admire its marvelous beauty.
How to reach:
From swargate hit Pune-Solapur highway. After the toll road ends at Urali-Kanchan, (2 Kms before Yevat) take right turn along eastern bank of canal. The fort should be around 8 Km. There is small ghat but the road is good condition. This road further goes down to Saswad. There is right side diversion just as the Ghat ends and a bumpy road with pretty steep with sharp turn's lead you right till the temple on the top of the fort.
Related Video (Bhuleshwar Temple):