Overview:
| | |
| --- | --- |
| Type: | Hill Fort |
| Location: | Uttan, Bhayander (West), District – Thane, Mumbai |
| District: | Mumbai |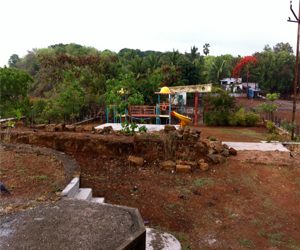 The Dongri Fort or the Dongri Hill Fort, locally known as the Irmitri Fort, is a fort in Mumbai, India. It is located in the Dongri area. It came under Maratha rule in 1739. Since then the locals and the church have been looking after the maintenance of the Fort, which was once repaired.
Currently Dongri Fort is under the Mira-Bhayander Municipal Co-operation and there is a Statue of Chimaji Rao Appa.
History:
Dongri Fort also known as "Dharavi Fort" was built after Vasai fort when the Portuguese realized the significance of the place. Initially soldiers were made to sit in small temporary station. Later on Portuguese built forts when they were acquiring Northern Konkan. It is believed that Chimaji Rao Appa came to Vasai and might have captured this fort.
This place was renowned for Yellow Basalt mines and from this stone Portuguese built buildings at Goa. In May 1737, a new Viceroy Mr. Kaddin came here. And after three days he attacked Dharavi fort and defeated the Marathas. Between May 1737 and March 1739 the Marathas and the Portuguese were strong rivals and attacked each other several times. Again this fort fell into the hands of Marathas in 1739.
Places to Visit on Fort: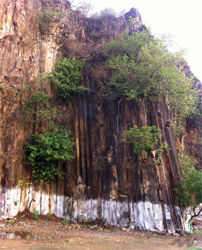 "Dongri Fort" also known as "Dharavi Fort" had witnessed several battles during its era is sadly it is in ruins currently. On the Bhayander-Uttan bus route, alight at "Dharavi Devi Road" stop. There is a Church built by the Portuguese named "Belan Mauli Church" nearby. Moving ahead from here we come across Dharavi Devi temple. After a short walk from the temple one can glimpse a rock cut mountain to the right. During 1536 to 1600, the Portuguese used the rocks from this mountain to build Vasai fort and churches in Goa. Further from this mountain the path reaches the hill top where one can see the ruins of a bastion on which contained the office of the Portuguese. There is a garden and remnants of fortification wall on the hill top. From the peak one can take a glimpse of Arabian Sea, Vasai Creek and Vasai fort to the North. A trip to the fort is a must to study its strategic location.
How to reach:
Bus Nos. 1 and 4 plies between Bhayander Station and Uttan in every 15 minutes, Bus No. 1 to Uttan drops us near the garden on the fort peak. From here after visiting the fort, one has to descend the fort and head towards the Church and board the same bus from Dharavi junction bus stop to reach Bhayander. Dharavi fort to Dharavi junction is about 2.5 kilometers.
Best time to visit:
Every year, during the month of October, the feast of Our Lady of Fatima is celebrated there. Many People from far off villages come to offer their prayers there.