Overview:
| | |
| --- | --- |
| Type: | Land Fort |
| Location: | 55 kilometers from Nanded. |
| District: | Nanded. |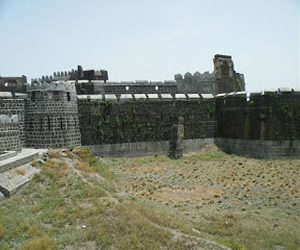 Very few forts in Maharashtra are as well maintained as Kandhar. The fort features a one of a kind water-filled moat encircling the structure. Because photographer's paradise, this fort visited by many architecture students from the state. It's a building from the Nizamshahi period and was built in honour of Rashtrakuta King Krishna III.
History:
Kandhar is the taluka place of Nanded district, the Kandahar city was the capital of the Rashtrakutas. Kandhar Fort was built during the reign of Rashtrakut dynasty.
Places to Visit on Fort: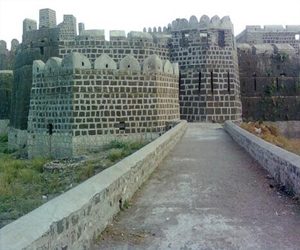 Kandhar fort is in the heart of Kandhar Town. Encircling the fort, is a ditch filled with water. Outside the Kandhar fort at some distance is a hillock on which an old Idgah held in reverence by the Muslims. It is of Nizamsahi period with two domes in characteristic Ahmednagar style.
The architecture of the fort has some amazingly elaborates security designs. There is a ditch in the periphery and Mogul style construction in the Kandhar fort is remarkable.
Also, worth noticing is a clock tower. The place was once surrounded by the common market area. Lal Mahal and Darbar Mahal are worth a visit. A beautiful water tank with fountains and the surrounding garden remnants suggest the royalty experienced by the medieval Sultans.
Amongst the all the heritage structures in the fort, the most charismatic is the Ambar Khana and Sheesh Mahal. The Sheesh Mahal is a double-storied building probably constructed at the same site where the Rashtrakuta Royal Palace existed. The Sheesh Mahal seems like the Rani Mahal of the Tughlaq and Bahmani sultans.
Also, the fort features many sculptures. Amongst them, the most noteworthy remains the huge 'yaksha vastupurush' sculpture of a man measuring 60 feet in height.
How to reach:
From anywhere in Nanded, local transport is easily available to reach Kandhar Fort.
Related Video (Kandhar Fort):
Best time to visit:
A big Fort of Kandahar is very beautiful. One can visit at any time to watch the amazing scenery, historical monuments and get knowledge. It has various spots to see.