Overview:
| | |
| --- | --- |
| Type: | Hill Fort |
| Location: | Ramgad Village, Sindhudurg, Maharashtra,India. |
| District: | Sindhudurg |
Ramgad Fort is near Ramgad village which is 12 km away from Kankavli. It takes around 15 minutes to reach Ramgad Fort from Ramgad village market. Historical records state, there were 21 cannons on the fort at that time. Now there are 7 cannons left on the fort buried upside down to avoid cannon theft. The cannons are now out of action by installing rivets into them.
Ramgad Fort was mainly used to keep watch on all the trades of materials and food artillery done through the river path.
History:
Tulaji Angre won the fort in the 18th century in the battle with Peshwas. Later, Krishnaji Mahadev who was the Commander of the Peshwas alongwith Sawantwadikars' Khandaji Mankar won back the fort in February 1796. The British captured the fort on 6th April, 1818. Historical records state there were 21 cannons and 106 cannonballs present on the fort at that time.
Places to Visit on Fort: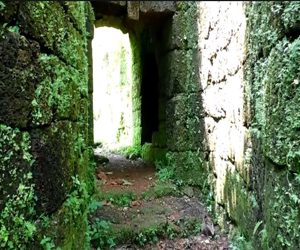 The fort has an open space called 'Holi Cha Maal', generally used to celebrate festivals in those days. There are total 3 doors to the fort one of which is no more accessible. The fort has total 15 bastions of 18 feet height protecting it from fire attacks in those days. It also has an idol of Lord Ganesh upstairs just after the entrance. Visitors can see the incredible view of River Gad at the right side of the fort. Ramgad Fort is a symbol of great fortification strategies and trade strategies implemented by Maratha forces.
How to reach:
You can visit this spectacular fort by train, the road as well as flight. By air, you can land in Dabolim, Goa and then go to Kankavli by road or train. The fort is only 12 km away from Kankavli. You can use public or private vehicles to reach this place.
Related Video (Ramgad Fort):
The Best time to visit:
Any time you can visit Ramgad Fort.