Overview:
| | |
| --- | --- |
| Type: | Hill Fort |
| Location: | Located 89km from Kolhapur, in Kolhapur district, of Maharashtra. |
| District: | Kolhapur |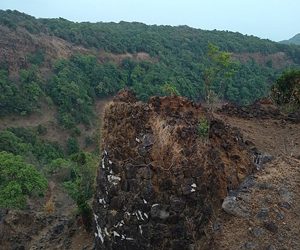 Shivgad Fort is a fort located 89km from Kolhapur, in Kolhapur district, of Maharashtra. This fort was an important fort in Kolhapur district as a watch over for the Fonda Ghat trade route from Kolhapur to coastal ports.
This fort is a major attraction for the adventurous tourists, trekkers, and the Mountaineers. The view of the area surrounding the fort is a major attraction here since the terrain and peaks of this region comes in contact with Asia's largest known biodiversity for flora and founa Dajipur Bison sanctuary.
History:
Ramchandra Pant Amatya was one of the eleven feudatories (Jehagirs) who controlled shivgad along with Gagangad fort. This fort was under the control of Pant Amatya of Gaganbawda, till the Indian independence.
Places to Visit on Fort: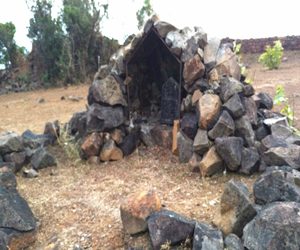 One enters the fort through the North West facing door the bastions of which are still intact. After entering the door we can see the double-walled fortification. After crossing this wall there is a bastion to the right. There is a beautiful Sati stone on the fort which is locally known as Ugvai Devi.
From the north bastion, one can see Kurli dam. Towards the south bastion, we come across the route coming from Gadge Sakhal village of Konkan and Fonda village to the south. Apart from these, there are very few remains on the fort.
On the return journey after traversing the hill we can see a waterfall patch on a rock. Here there is a built-in water tank. There is no other water management facility on the fort.
From the fort top, there is a temple crown visible towards the east (Jhanjeche Paani). It can be reached through the unpaved road from the small hill leading through the jungle which takes around 20 minutes. There is a story that Saint Gagangiri Maharaj used to meditate here. Behind this temple, after passing by some houses there is a rivulet which flows throughout the year which is Jhanjeche Paani.
How to reach:
The nearest town is Radhanagari which is 61km from Kolhapur. The base village of the fort is Dajipur which is 32km from Radhanagari. The fort can also trek from base village Gadgesakhal which is below Phondaghat. It takes about 2 hours to reach from this village. The trekking path starts from the hillock west of the forest check post. The route is very safe and passes through dense jungle. It takes about an hour to reach the entrance gate of the fort. There is no water on the fort so, the night stay on the fort cannot be made. The villagers from the forest check post make night stay and food arrangements at a reasonable cost.
Related Video (Shivgad Fort ):
The Best time to visit:
Shivgad is near the wildlife sanctuary and dense forest hence best you can visit the fort in the monsoon season.