Overview:
| | |
| --- | --- |
| Type: | Hill Fort |
| Location: | On top of Laling hill about 9.65 km (6.00 mi) south of Dhule city |
| District: | Dhule |
Laling Killa is a small fort in Dhule district of Maharashtra in India. The fort is on top of Laling hill about 9.65 km (6.00 mi) south of Dhule city. The vegetation cover on the land is very less.
History:
Farooqi Family is one of the prestigious royal family in the history of Khandesh in Maharashtra. This family ruled this region for five hundred years. This fort was the capital of Farooqi Family.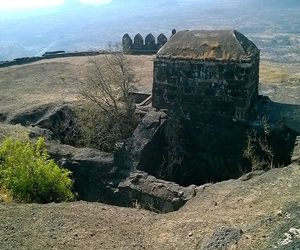 In the year 1775, after the defeat of Nizam in the Battle of Bhalki, by Malhar Rao Holkar 1st and the Maratha army, this fort came under the Holkar empire but in the year 1818, the fort went into British custody.
Places to Visit on Fort:
Presently the fort is in a ruined and collapsed state. Around the fort is a small village called as Laling village with 1,549 inhabitants in 1961. There are two main parts of the fort – Citadel and Summit. Just before the devastated entrance gate of the fort. To the right of the entrance, one can see a sculpted tiger on a rock.
Moving ahead from here we come across the fortification wall which is still intact and some bastions to the right after a short climb. Moving back to the entrance gate, there is a path which is beneath the gate that leads to the fort summit. After 20-25 steps on the path towards left, we come across some water tanks cut in the rock.
There are few more water tanks further on the same path and the summit/open area of the Citadel starts a few steps from here. The summit is well protected by a fortified wall from all sides and some parts of the wall have carvings, after climbing this raised surface one comes across the ammunition storage facility.
How to reach:

The Laling village is 9.65 km from the Dhule city on a busy Mumbai-Agra NH3 Highway.
Regular buses from Dhule towards Malegaon can be taken to reach Laling which is also the name for its base village.
Related Video (Laling Fort):
The Best time to visit:
The day temperatures reach up to 40 degrees Celsius while the night are as low as 10 degrees Celsius which makes trekking interesting.