Overview:
| | |
| --- | --- |
| Type: | Hill Fort |
| Location: | Raikot fort can be reach from Kondaibari village & Morkaranj village |
| District: | Dhule |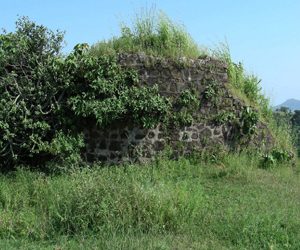 Raikot fort in the Kondaibari Ghat was a watch tower to keep an eye on the Surat-Burhanpur trade route.
History:
King Ahir built Raikot fort. The main purpose of this fort was to serve as a watchtower for the trade routes. Hardly any information can be obtained from the historical records.
Places to Visit on Fort:
There are remnants of the fort wall on a trench between two hills on the way to the fort from Raikot village. This fort is now used as farmland which is the main reason for its ruins.
There are a lake and a bastion on the fortress. The way from Morkaranj town to the fortification has stairs inherent rock. There is a cave (10 feet (3.05 m) to 20 feet (6.1 m) in size) close to the stairways however it is not suggested for a stay. The excellent and steep valley (Makad-dari) encompasses the fortress from three sides.
How to reach:
Kondaibari ghat is on the Dhule – Surat route. Kondaibari village is at the beginning of the ghat and Morkaranj village is at the end. We can reach Raikot fort from both these villages.
l) Kondaibari route: – Kondaibari village is 70 km from Dhule on the Dhule – Surat route. 3 km further from this village, on the Nandurbar road, take the left diversion to Raikot village. One passes by Navagaon (4 km) – Lagadvaad (2 km) and finally to Raikot (2 km). The road from Hanuman temple outside the village ends at a small path which further takes us to a trench. One reaches the fort after climbing this trench. As the surrounding area of the fort is located at a height well above sea level, the further ascend to the fort becomes quite easy.
2) Morkaranj route: – A small path from Morkaranj village via Makad-dari valley and then stairs built-in rock on the upper side of the fort leads us to the fort entrance.
Related Video (Raikot Fort):
The Best time to visit:
Monsoon i.e. from October to March is the best season to visit the fort. In monsoon The surrounding area turns into a paradise for butterflies. Beautiful natural scenery from Kondaibari to Raikot is eye pleasing.