Overview:
| | |
| --- | --- |
| Type: |  Coastal Fort |
| Location: | An half Km away by sea way from Malvan jetty. It is situated in east-north direction of Sindhudurga fort. |
| District: | Sindhudurga |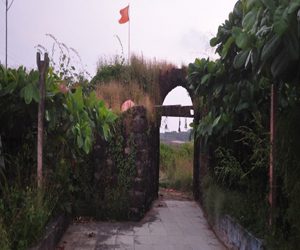 This fort is also in the sea near Sindhudurga. It was then used as a dry dock for building, maintenance and repairs of ships. In full tide, the ships used to enter the site. Again the ships used to sail in the sea when there was high tide. To protect the Sindhudurga fort from the landward side, Shivaji built a fort of Padmadurg, now disappeared into the sea.
History:
Shivaji Maharaj built Padmgad, Rajkot, and Sarjekot to protect Sindhudurga. Padmgad stands between Malvan sea shore and Sindhudurga on a rock, to avoid attacks on this way. Before Tsunami it was possible to walk to this fort during low tide.
Places to Visit on Fort:
The main entrance of the fort is intact and faces Sindhudurga. There is a dry well in and a temple of "Vetal" in the fort. The local people have hoisted flags on the bastion in front of the temple. The surrounding rock was smartly modified by Maratha architects to build a dock here.
How to reach:
We have to convince the boatmen near Dandgeshwar temple in Malvan to reach the fort.