Overview:
| | |
| --- | --- |
|  Type: |   Hill Fort |
|  Location: |  Alibag District of Raigad. |
|  District: |  Raigad |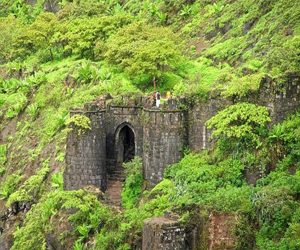 Sagargad Fort is loacated in Alibag District of Raigad District at a height of 1357 ft above sea level. This hill fort commands a steering view of the entire alibaug region. It's a beautiful Fort near sea. Located on this fort is a Temple of Siddheshwar, a river flowing by, and most of all a cliff just behind the temple where the river becomes a waterfall.
History:
Very less is known about the origin of the fort or who built it. Chatrapati Shivaji Maharaj won the fort from Adilshaha in 1660 A.D. Sagargad was one of the 23 forts handed over to Mughals in the treaty of Purandar in 1665 A.D. Shivaji Maharaj won the fort back after he escaped from Agra.
During the anarchy after the death of Sambhaji Maharaj, Sagargad was won by Siddi of Janjira. In 1698, Kanhoji Angre, Bhivaji Gujar of Kulaba and naval chief Sidhoji won back the fort from Siddi.
Sagargard Fort was later given to Angre, the naval chief of the Marathas in return for loyalty against Shahu Chhattrapati of Satara. But in 1713, Balaji Vishwanath Peshwe orchestrated a compromise between Kanhoji Angre and Shahu Maharaj. Along with Sagargad, 16 forts were given to Kanhoji. After Kanhoji's death, the possession of Sagargad transferred to Yesaji. There was an altercation between Yesaji and his brother Manoji. Manoji sought help from Portuguese and won the fort from Yesaji.
In 1738 A.D., Sambhaji Angre won the fort from Manoji. The possession of fort went to British after the defeat of Marathas in the war at Pune. Seeing the attractive scenery and pleasant atmosphere, General Fuller and some British officers built rest houses on the fort.
Places to Visit on Fort: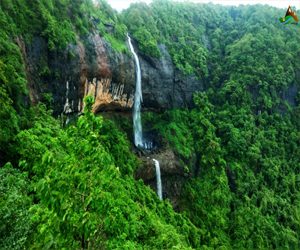 There is a small temple of Mahishasurmardini and water tanks (Pandavkund and the Vanartok) on the way. Beautiful and captivating temple of Siddheshwar is accompanies by a lovely clear river. There is an intimidating cliff just behind the temple, where the river becomes a waterfall ("Dodhane"). The beauty of the waterfall can be seen in Monsoon.
This hill fort commands a steering view of the entire Alibaug region.
Major attractions
Siddeshwar Ashram.
Dhondana Waterfall – Pristine beauty.
Shiva & Ganesh Temple.
Ruined fortifications and Y shaped fort structure.
Ancient Saptarshi caves.
How to reach:
The path to the fort starts from Khandale village on Alibag-Pen Road. A gentle walk of 2 hours from the village Khandale can reach us up to the fort.
Related Video (Sagargad Fort ):
Best time to visit:
This fort can be visited all round the year.