Overview:
| | |
| --- | --- |
| Type: | Hillock Fort |
| Location: | Sion, Mumbai |
| District: | Mumbai |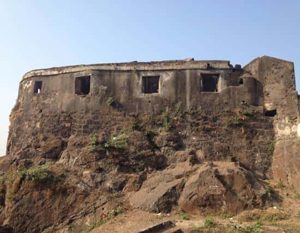 The Sion Fort in Mumbai is located close to the Sion railway station. At the base of the fort lies a garden called the Pandit Jawaharlal Nehru Udyan. To get to the fort, one has to take the flight of stairs, it should take you around 10 minutes to reach the top of the fort from the stairs.
Once you are there, you will find a couple of ruined rooms and an old canon. From one side of the fort, you can see the vast open salt pans and on the other a few buildings and factories.
History:
It was built under the regime of the English East India Company, between 1669 and 1677, atop a conical hillock when Gerard Aungier was the Governor of Bombay. It was notified in 1925 as a Grade I Heritage structure. When it was built, the fort marked the boundary between British-held Parel island and the Portuguese held Salsette Island that lay to the north across the creek.
Places to Visit on Fort: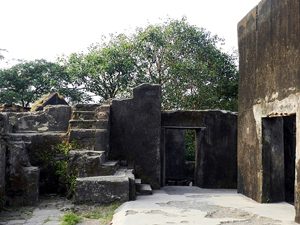 The fort is dilapidated and a collection of broken stone steps, scattered walls and ruins, overrun by trees and ground cover. The fort wall has a small room on top. A series of pathways lead to it. The fort offers a panoramic view, overlooking the salt pans in the Thane Creek. However vandalism and apathy have taken toll on the structure. Restoration of the fort had begun in 2009 but was stopped mid-way due to paucity of funds.
How to reach:
It takes 8 minutes to travel from Sion Railway Station to Sion Fort. Distance between Sion Railway Station and Sion Fort is 7 kms or 4.3 miles
Related Video (Sion Fort):
Best time to visit:
The best months to visit Sion For  are Jan, Feb, Mar, Apr, May, Jun, Oct, Nov and Dec.