Overview:
| | |
| --- | --- |
| Type: | Land Fort |
| Location: | Near to the Shri Siddheshwar Temple in Solapur. |
| District: |  Solapur |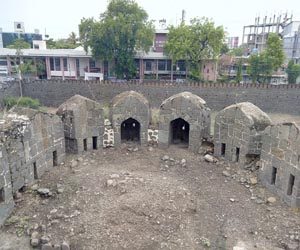 One of the main attractions around the famous city of Solapur is the Solapur Fort. Solapur Fort is also known as Bhuikot Fort.
Near the fort walls, there is a small ground. In its glory days wrestling matches were conducted there. Wrestling was a form of entertainment then. The wrestlers were called Pehelwans.
History: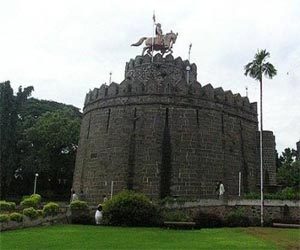 It is said that the fort was built during the 14th century under the rule of Bahamani Dynasty in the memory of Hutatma Bagh. The fort was conquered by many rulers post then.
The fort walls were built of stone and not very tall. Built during the Bahamani rule the fort is as old as the fourteenth century.
It is said the great Aurangzeb spent several years here. The fort was home to Emperor Aurangzeb for an entire year from 1685-86 AD.
Once it was handed over to the Pewhwas, Bajirao II also stayed here.
Places to Visit on Fort: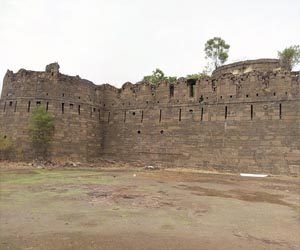 Today, Bhuikot Fort has its very own animal park, which has proven to be a great hangout for families and students alike. The animal park may not be grand but houses several rabbits, ducks and peacocks and monkeys, amongst few other animals. The fort that was once in shambles has recently been resurrected to its old glory. The lake nearby adds to the already scenic setting and shimmers in orange during sunsets.
From the fort premises one can see the Shri Siddheshwar Temple in the middle of the algae infested Siddheshwar Lake.
On the inside, there are gardens all over the place. There is a beautiful mosque in the fort premises. The mosque though short in height, it had beautiful pillars carved within in. The design on all the pillars was uniform.
There is another structure in the fort premises, not sure if it is a temple. It is in broken state, but it was surrounded by water.
There were two huge cannons in the fort premises. The cannons had the seal of the maker, year of production and the batch too.
How to reach:
Getting to the fort isn't too difficult since it is located in the Sidheshwar temple area, which is at the heart of the city of Solapur.
Solapur Fort is situated less than 2 km away from solapur. Auto rickshaws are available from solapur railway station to solapur fort.
Related Video (Solapur Fort – Bhuikot Fort):
Best time to visit:
The fort is open all 7 days a week. Timings are 9 AM to 5 PM. Entry fee is Rs.5.