Overview:
| | |
| --- | --- |
| Type: | Hill Fort |
| Location: | 18 km south of the Roha town on Roha-Tala-Indapur road. |
| District: | Raigad |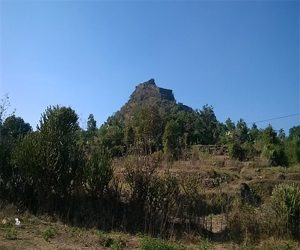 Talagad Fort is 18 km to the south of the Roha town on Roha-Tala-Indapur road. This fort is at an altitude of 1000 feet (0.3 kilometers) and in form of a narrow strip 20mt in width. It is situated on a narrow spur guarded by fortification and served to keep watch on the enemy and the trade route from Maval to the sea ports around
History:
It is not known about who built this fort. Shivaji Maharaj won the fort from Adilshah of Bijapur in 1648 AD. When Afzalkhan attacked the Maratha kingdom in 1659, Siddi seized the Talgad fort. Later, on hearing the defeat of Afzalkhan, Siddi released the control citing fear from the Maratha warriors.
Shivaji Maharaj retained the fort along with 11 others in the Purandar pact when he had to give away the rest to the Mughals which shows importance of this fort. After the demise of Shivaji Maharaj, Siddi won the fort again. Later in 1735 AD the first Bajirao Peshwa and afterwards in 1818 AD General Prathur take hold of the fort.
Places to Visit on Fort: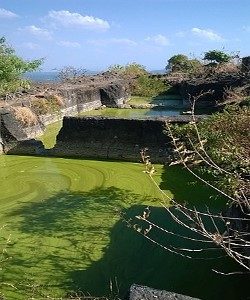 It's a small fort. The main entrance is called Hanuman darwaza. The fort is in good condition with its bastions and fortification wall still intact. On the right corner of the doorway there is a carved sculpture of Lord Hanuman and a water tank. On the summit there is a two storey bastion in good condition.
A bit further from here there are three water tanks and a temple structure. On the top most part of the fort there are 7 water tanks and a storage house named "Laxmi Kothar'. Moving further towards north, there is a bastion on the tip of the fort. Many ruins of mansions and houses can be seen in the fort premises. From the top of the fort surrounding areas of Ghosalgad fort, Mandad creek and Kuda caves are visible.
How to reach:
Maharashtra ST (State Transport) buses and trains are available to village of Tringalwadi all over from Pune and Mumbai Mainly.
There are regular state transport buses and private vehicles which run between Roha, Indapur and Tala. The path from the town goes straight to the main entrance of the fort. The trek route is of 45 minutes.
Related Video (Talagad Fort):
Best time to visit:
The fort is open 24 Hrs to public for all days of the week. One has to show their ID to enter the fort and for foreign nationals, passport is mandatory. It comes under Maharashtra tourism and department also promotes the heritage site.
Any time you can visit Talagad Fort. The best time to visit Talagad Fort is during the rainy season with extra care.