Overview:
| | |
| --- | --- |
| Type: | Hill Fort |
| Location: | 55 km from Nashik, in Nashik district, of Maharashtra |
| District: |  Nashik |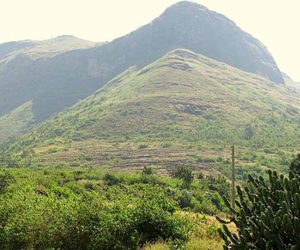 Fort AHIVANT is a part of Ajanta mountain range. Ahivant and Achala are neighbors. Ahivant Fort is a fort located 55 km from Nashik, in Nashik district, of Maharashtra. On the north of Saptashringi and to the west of Dhodap fort, is situated this fort with a big plateau. Captain Briggs has described it as a large and shapeless hill, remarkably bleak and unhealthy.
History:
In 1636 this fort was under the control of Adilshah. The Moghul Emperor Shahjahan send one of his General Shaista Khan and entrusted to win all the forts in Nashik region. Alivardikhan was cavalier of Shaista Khan who won the Fort. In 1670 the great king Shivaji won the fort from Moghuls. The Moghul Emperor Aurangzeb sent his chieftain Mahabat Khan to win the fort. Mahabat Khan and Diler Khan opened battle front from either side of the fort. The attack was so fierce that the fort was surrendered to Moghuls. In 1818 the fort was captured by British Colonel Prother.
Places to Visit on Fort: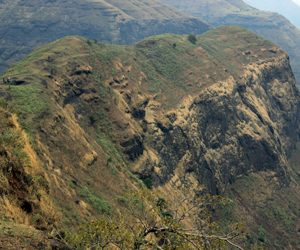 Although Achala and Ahivant are neighbors, Ahivant has a broader plateau unlike Achala, which takes almost a full day to explore it. There is a cave in the north-east direction of the fort, but it is not suitable for a stay. Whereas a cave in the southern direction is suitable for a stay. Almost 10 min. away from this cave, is a water tank. If you come from Dare village, you will find devastated structures of two big entrances. In the nearby area you will find remnants of many old palaces, which shows that this fort was well-equipped with a defense base. You will also find Shivling at many places. One can find many caves while coming on the fort from this side. You can find two to three lakes while roaming on the fort. There is a temple with a statue which resembles Saptshrungi.
How to reach:
Nashik – Vani
Reach Nashik and go to Vani. From Vani, you can have a good view of Ahivant along the Nanduri road. There is a left turn around 1 k.m before Vani – Nanduri road, this way takes you to the base of Ahivant hill within an hour. From here, climb over the valley and reach Dare village. From village, it's an hour hike to reach the top.
Pimpripada – Ahivant
Reach Nashik and go to Vani. From Vani reach Pimpripada via Pimipripada – Achala route. From here, go to the temple. Take right turn and reach Belwadi village. From village, you can reach Ahivant in two hours. This route is quite long.
Related Video (Ahivant Fort):
Best time to visit:
Best time to visit is from October to February.