Overview:
| | |
| --- | --- |
| Type: | Coastal Fort |
| Location: | North of Malwan |
| District: | Sindhudurg |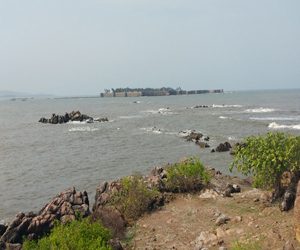 North of Malwan has two more forts, Rajkot and Sarjekot. Rajkot is the northwest of the town and stood on a promontory. Some stones from Rajkot are use to build Sindhudurga fort.
The fort is in the west-north direction of Sindhudurga fort, a half Km away by coast way from Malvan jetty.
History:
Shivaji Maharaj built this fort between 1664 and 1667. In 1766 there was a treaty between British and Chatrapati of Karveer, and the British wanted permission to set a ship-building yard in Rajkot. References say that there were some remnants and a canon on Rajkot in 1862.
Places to Visit on Fort: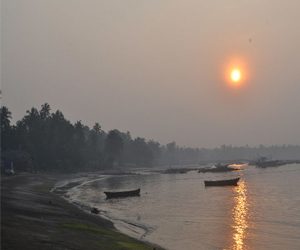 The fort has only one bastion having a flag host on it and due to the rocky coast, the flagged host is useful for the boats. The fort also has a rock garden where tourists can enjoy the view of sea waves playing with the rocks. There is a Lord Ganesh temple near the fort. Also, there is a temple called Mauni Maharaj near Rajkot fort.
How to reach:
You can take public or private transportation services to reach this fort. If you are traveling by bus, you have to first reach to Malvan ST stand and then head to Wadacha Paar stop by bus. The fort is a 10 min walking distance. Visitors will see Ganesh temple on the way. You can take left for fort and right for a rock garden.
Mumbai to Rajkot Fort– 530.3 km
Pune to Rajkot Fort- 387.5 km