Overview:
| | |
| --- | --- |
| Type: | Coastal Fort |
| Location: | Located in Redi, Maharashtra, near the Maharashtra-Goa border |
| District: | Ratnagiri |
The Yashwantgad Fort is on two levels, the Lower Fort and the Upper Fort. The Lower Fort is the larger one with its base touching the creek and fresh water well inside. The Upper Fort is smaller and on a hillock to keep watch on maritime activities in the surrounding waters.
Yashwantgad is in Nate village on the banks of Arjuna River which is a creek in the district of Ratnagiri. Goods were transported from the port of Musakaji which is near the fort to Rajapur port through Arjuna creek. The British had also built a warehouse which also served as a small fort in Rajapur port area.
History:
In the 610-611AD Redi was an important trading port of the Chalukya Swamiraja.
Marathas built Redi Fort (Yashwantgad Fort) between 1707 – 1713. It was under the control of Kanhoji Angre. It was later captured by the Portuguese in 1746. The earlier Citadel holders, the Sawant clan of Maharashtra, were desperate to regain the fort because of its valuable strategic position on the coast.
Sawant made an attempt to recapture Redi fort by poisoning the Portuguese Garrison's fish supply, but the attack was unsuccessful.
The fort was eventually returned to the Sawants following a peace treaty, but the success was short-lived – in 1765 British captured the fort and later sold the land to local people in 1890 while retaining ownership of the fort walls.
The fort is now safely in government custody. Yashwantgad Fort is now a 'Protected Monument' under the Maharashtra Ancient Monuments and Archaeological Sites and Remains Act, 1960.
Places to Visit on Fort: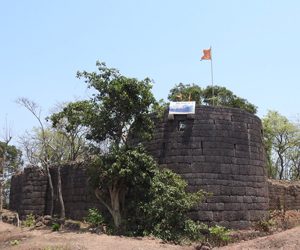 The Yashwantgad Fort served as an island fortification, on Rajapur Creek of the Arabian Sea.
There is a ditch from three sides of the which served as a kind of moat, but it disappeared over the years.
The fourth sea-facing side has a long continuous wall with 16 bastions and its main entrance was on the eastern side, though most of it is in ruins now due to centuries of neglect.
There are four gates to enter the fort. The entrance gates and the guard vestibules are in good condition. The balekilla or Sanctum Sanctorum is a zigsaw puzzle, there are many buildings and wards in good condition.
How to reach:
The fort can be accessed by two routes – Ratnagiri – Pawas – Adivare – Nate or Rajapur – Nate. S.T. buses are available from Rajapur and Ratnagiri to reach Nate. It takes 15 minutes on foot to reach the fort from the village or one can also opt for an auto till the base. Buses going to Ambolgad can be taken to alight at the fort.
Related Video (Yashwantgad Fort):
Best time to visit:
The temperature remains in the comfortable 13 °C – 30 °C during October to February and these are the best months to visit Yashwantgad Fort.